Building Strong Foundations for Three Generations.
F&F Concrete is a SBE certified ready mixed concrete company located in Southington and North Haven, Connecticut. Therefore, our strategic positioning allows us to serve clients across the state. Conveniently located off I-84, our plant is capable of batching 1,500 cubic yards of concrete a day — allowing us to handle projects of all sizes.
In fact, we can deliver concrete within a 45-mile radius. As a result, we are able to provide service to all of Connecticut. Furthermore, our batch system uses microwave technology that batches concrete within a 1% variance of a specified mix design.
Our Founders
The F&F Concrete Corporation was founded in 1953 by two friends, Ralph Forgione and Jack Foley. Following, after serving in WWII, they returned home to Southington, Connecticut determined to found their own concrete company.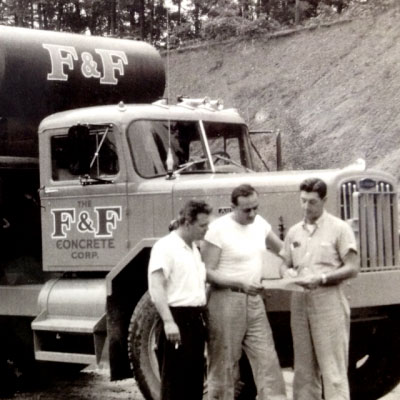 Starting with just two concrete trucks purchased from a local junkyard, Ralph and Jack rose from humble beginnings to make their family-owned business a success. Following,  in 1982, Ralph bought F&F from Jack and continued to run the concrete company with his son, David, the current President.
Sadly, Ralph passed away on December 7, 2013 at the age of 89. He worked until the day he died, still operating loaders and tracking yardage with just pencil and paper.
As a result, Ralph's values, honesty, commitment, and hard work are part of the legacy that he passed on to the business, his family, and the culture of F&F Concrete.
Our Future
F&F is in its third generation as a family-owned business. To accommodate for our expanding SBE certified ready mixed concrete company,  F&F is always expanding.  As a result, we are now  a 30-truck, two-plant, central dispatch operation with over 50 employees and is a proud member of the National Ready Mixed Concrete Association.
Still a Southington, Connecticut institution, F&F proudly continues its emphasis on innovation and environmental sustainability, with a commitment to providing the highest quality product and unparalleled service. Alas, the company continues to proudly support local causes such as the Calvanese Foundation and various other charitable efforts.